I Offer the Following Cooking Classes – details and prices below.
Teens in the Kitchen – Life Skills Cooking Course
A chance for your teen to cook a full range of nourishing meals and treats. This course is designed so your teen will develop this Life Skill and be able to cook confidently on their own.
There are seven action-packed, hands-on sessions ending with a 'Ready, Steady, Cook!' Team challenge
Each session is 2 hours long and there are 7 sessions in total. The course is held over 3 months and can be used for the Life Skill Section of Duke of Edinburgh Bronze or Silver Award. Price £225. 
Session dates TBA
Information on Duke of Edinburgh Bronze
Parents comments from previous courses:
"Thank you so much for all your hard work and for providing such a great course – the boys really did enjoy it and I can honestly say that as they would always come out afterwards full of enthusiasm.  I am also sure that they have learnt a great deal and it was such a great experience for them – thank you."
"A has had a fabulous time doing the cooking course and our family has really enjoyed the recipes that she has made. She has learnt a lot and her confidence has grown."
To book use the booking form below
Cooking for Uni / Life Skill Cooking Classes
I offer this course so there's no need to worry that your young adult has this valuable life skill.
We are going to do lots of cooking together to build
SKILLS , CONFIDENCE and arm them with RECIPES so they can cook great food on a student budget. This is also open to your sons/daughters if they have just done their GCSE's to give them a head start!
The cost of each workshop is £80 per person.  Dates TBA.
To book use the booking form below.
Teens in the Kitchen
I offer this course to your 11 – 15 year olds to get hands on in the kitchen during the school holidays. They will create some amazing tasty dishes from all vegetarian ingredients.
The cost of each workshop is £35 per person. The next date is for February Half Term on Thursday 20th February running from 10am – 12midday.
To book use the booking form below.
More Veg in Your Life
I offer this 3 month on line programme to boost what you put on your plate with colour, taste and loads of food that will nourish you.
We will give you help to get started, weekly recipes and online support.
The cost of this programme is £60 including a 30 minute consultation to get you started.
Cooking with Family & Friends
I offer this cooking class with family & friends in the comfort of your own kitchen?
We will  have fun preparing some delicious, healthy and nutritious dishes together.
I will work with you to design the menu then bring along everything we need to create your chosen dishes.
The cost of these classes is from £180 for a two hour session.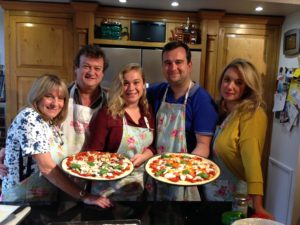 To book use the booking form below.
Evening Feast Classes
I offer Evening Feast Classes for small groups.
I will provide all the recipes and ingredients to create an Indian, Italian or Mexican Feast. Then, we will have fun creating them together.
The cost of these classes is £50 per person for a two hour session, which includes ingredients, recipes and food to take away.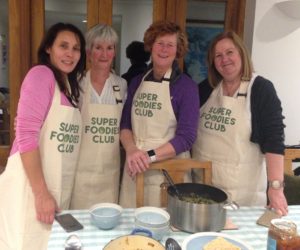 To book use the booking form below.
Helping Husbands Cook Classes
Would you like your husband to share the cooking with you?
I offer this session so he has the SKILLS , CONFIDENCE and RECIPES to cook great dishes at home.
The cost of each workshop is £80 per person for a 4 hour class. 
 
To book complete the booking form below.
Booking Form
Please fill in your name, email and details of which class you are interested in below.
***New Venture***
Change Your Thinking, Lose the Weight
Do you want to have a healthier lifestyle and a great relationship with food?
Over 8 weeks Norah will help you develop a positive mindset to achieve a healthier lifestyle
and I will help you with the information and skills you need to eat delicious food that will really nourish you.
We will both support you all the way so you can change your life and be a healthier, happier you.
Starting 26th March
Early Bird tickets now available